ACA Technical Blog – New filtermedia process and quality contol innovation present at Filtech 2019
The world largest and most important filtration event Filtech takes place 22-24.10 in Cologne Germany. In 2018 the show achieved new record with 14 000 visitors from 73 different nations and total 380 exhibiting companies.
The global industrial filtration market is expected to grow at a CAGR of 6-8 %. The key drivers are regulatory compliance in industries such as tranportation, food & beverage and pharmaceuticals and growing focus on safe working and living environment including the demand for clean air and water.
For filtermedia the technology edge is achieved today and tomorrow by combining the efficiency and sustainability. This involves huge amount of new innovations in raw material selection, process technologies and new functionalities. As a consequence, the importance of proper process and quality control is higher than ever.
We are very proud to present our new technology for real-time filtermedia process and quality control. Our ACA Permi online air permeability / pressure drop analyzer is also highlighted in yearly Filtech Innovation Guide among other top trending filtration innovations.

On-line Air Permeability / Pressure Drop Analyzer – A Novel innovation for the filtermedia production and quality control
The uniform filtration performance is an essential quality requirement of the filter media so that it can protect people, machines and environment. The filtration performance of the media is often measured as air permeability / pressure drop. So far, it has been possible to measure these important characteristics reliably only in laboratory environment. However, laboratory measurement is typically used only for quality control due to delay of the results and so it has not been used as a process control tool.
Now ACA Systems Oy from Finland has developed and introduced new online measurement device ACA Permi for measuring air permeability / pressure drop realtime in process. This novel technology measures based on continuous air flow method directly from the moving web with very high correlation to various lab standards. On-line air permeability / pressure drop analyser helps the manufactures to see even small process changes and learn how they affect the filtration performance.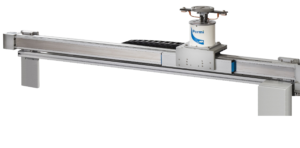 See you at FILTECH! Hall 11.2 R36