Real time process and quality control analyzer for filter media production
Filtration industry is growing fast, driven by mega-trends such as demand for purer air and cleaner water, both being the subject of ever-more stringent legislation. For filter media producers this means higher filtration efficiency at lower pressure drop levels. Same time the basis weight of media is requested to decrease, but the strengths properties increased. Sounds like an interesting equitation!
We at ACA Systems Oy have developed a reliable tool for you to make the production and quality of filter media to meet today's and tomorrow's high expectations of the market.
We have introduced a new continuous air flow analyzer that is able to measure either air permeability or pressure drop of a media real-time during the manufacturing process. The on-line method is fast, reliable and accurate and it gives typically over 0,95 correlations to various lab standards. The structural web control by ACA PERMI PD guarantees the stable quality of filtration media.
Please take a look on our application notes, you might find valuable insights to your cases.
– Process stability of a filter media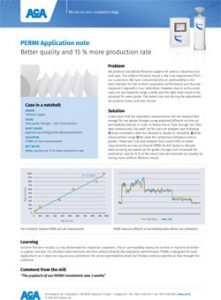 For more details download the brochure or contact us at info@aca.fi